As laurent is a diving addict, we always make it a point that when we are in the Philippines, we should at least do some of these water stuffs. Our favourite place is of course, palawan, at dos palmas, where we did a lot of ocean kayak and snorkelling. This is a place to behold for those who love this activity. It's a wonderland down there. The varieties of corals and sea animals in all their colours and forms are real delicatessens to the eyes.

My diving baptism was in Puerto Galera - yeah people, I have this PADI certificate issued from a 12-meter dive in Monkey beach dive site. That was fun! The thing is, you get to approach the corals and swim with the fishes. But personally, I hate this sensation of being compressed so I still prefer snorkelling. Funny because one not-very-windy afternoon, Laurent and I decided to take a look of the corals just infront of the resort where we stayed. Little did we know that there was low-tide that particular afternoon. So as we go farther, the sea level started to go down. My big belly started to touch the corals, and there was even this sea animal which attacked me because I was getting very close to there hide-out. Of course we cannot get into our feet to go back to the shore, so we crawled carefully so as not to destroy the corals. Well, we arrived at the resort safe and sound with a lot of bruises of course. But that was part of the fun.

Another favourite spot is Anilao in Batangas. The access is not that agreeable but it's worth it. The corals, I think are better than in Puerto Galera. The only disadvantage is that, there's nothing to do at night unlike in Puerto Galera.

We were in the Philippines last December but we were not able to go to other places because it was also the wedding of my kuya. So we decided to stay in my town, in Sta Cruz, north of Zambales. Honestly speaking, I don't really know what my town could offer to tourists such as Laurent. For me, nothing is spectacular in this area. But for him, it's a totally different scenario. He loves my parent's place because it's very natural, the rice fields just at the back of our house, the trees around, even the little boy next door fascinates him. Once we were at the beach and there was this Danish guy who offered us a snorkelling session anytime we want, Laurent readily said yes. Wow, that's what he was looking for...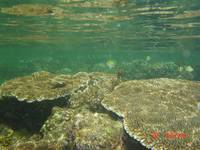 corals in bloom..

We went near the Balaki Island where we did a 3-hr snorkel. Wow, I didn't know that we still have some corals down there after we suffered from massive and irresponsible dynamite fishing years back. (I assure you, this kind of fishing still exists, I was hearing bombs while snorkelling...hope this will totally stop asap). When we had enough of the fishes, we did boating around up to Putipot Island and had a drink with some of the bakasyonistas there. That was cool!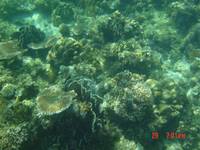 one of the magnific sights underwater..

On second thought, there's something interesting to do in my place...a hidden secret, a secret paradise...