in a relationship, having something in common is a must: points of view, interests, beliefs, etc. that saves the ship from shrinking in times of storms. differences, on the other hand, adds up to the spicies of life. it definitely makes life more exciting. it creates some kind of mystery in a couple that keeps them on a 'search mode' for life. one challenge is to convert some of these differences into a common interest.

hiking is one of those 'common interests' we share with gusto. the difference is that he does it for sports, among others of course. and me, i do it for photography, of course, among others :). we also love having our siesta in the middle of mother nature, with the fresh wind, and the lovely scenery, all natural, no artificial flavors, ika nga.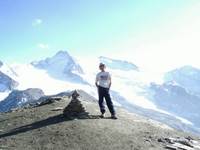 one of the highest peak i climbed so far..



differences? we have a lot! he loves water, i hate it. in fact, kayak is his first love, a dangerous sport at that. every year, he organizes a sportive weekend where we go out with our colleagues for them to have a feel of what wild water is all about. i once tried rafting and it was a blast! an experience! and honestly, i loved it.

most of the people that go out with us have this apprehension of fear. but everybody goes home with a great souvenir - that is, the sensation of fear and fulfillment.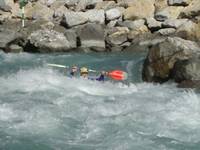 while im reading, laurent's on his kayak gliding..



well, im just proud of him when he's on his kayak suit...