Since my former post on the increasing oil prices, displays at the gasoline station nearby never ceased to augment. From 1.19€ per liter for Super Unleaded 95, it went up to 1.32€! Since beginning of this week, a little decrease in these prices has disappointed the French community rather than satisfy them. And who wouldn't, they decreased at an average of 3 cents per liter. Tatlong sentimo! Ngek!

So how do we cope up with this pocket-wrecking phenomenon? On the last post, I tackled the substitution of these gasolines by vegetable oils (biocarburants) which are more environment-friendly. Some automobile companies are starting to design some models which jive with the same objective - decrease fuel consumption, therefore save the planet. BMW for example exposed a hydrogen-powered engine while Toyota featured their fuel cell hybrid cars combining both electricity and gasoline. Click here for more info (in french).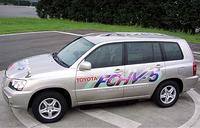 Europe is basically pro-environment. You could see this mentality in every corner of their little villages. From waste segregation to depriving themselves from air-conditioning to reduce consumption. Plastic bags are not given anymore for shoppers in big supermarkets, you have to bring your own bag or basket. Oil prices are astronomical to dissuade consumers from using their cars too often. Tax deductions are even given to those who buy clean cars or those which emit less C02 (Liquified Petroleum Gas for France or

GPL

). Bikes are widely used in the Netherlands and Belgium, and now here in France.


In Lyon, they launched a vélo en ville program (city biking) wherein a commuter could take a bike anywhere and leave it anywhere. Isn't that cool? In fact, the city made available for the public a number of bike stations where commuters could take, leave and pay rentals all in one. It's so easy to use, with an access card, you could roam the city as much as you want.



Why didn't they implement this brilliant idea when I was still living there? Think about the practicality of it. You don't have to buy your own bike, buy your own lock and find a parking space, or bring your car everytime and
of course
pay for the parking space, or wait for the bus, or the tramway, or the underground train! Imagine how my life could have been so much easier in this strike-prone country!